Chicken Pesto Panini w/ Sweet Potato Fries
Regular price
Sale price
$14.75
Unit price
per
Sale
Sold out
Indulge in the mouthwatering flavors of our Chicken Pesto Panini served with a side of crispy sweet potato fries. This delectable entrée features grilled organic chicken breast, perfectly seasoned and nestled between slices of freshly baked ciabatta bread. The panini is layered with sun-dried tomatoes, fragrant basil, provolone cheese, and a zesty horseradish aioli that adds a delightful kick to every bite.
Complementing the panini is a side of golden sweet potato fries, seasoned with our special house blend of herbs and spices. The fries offer a satisfying crunch and a hint of sweetness, perfectly balancing the savory flavors of the panini. Treat yourself to the delightful combination of flavors and textures in our Chicken Pesto Panini with sweet potato fries, a satisfying meal that will leave you wanting more.
Balanced

Ingredients: Organic chicken breast, ciabatta bread, sundried tomatoes, basil, provolone cheese, horseradish aioli, sweet potato fries, house seasoning.
Nutrition Facts: Calories: 1140, Protein: 81 g, Fat: 46 g, Carbohydrates: 76 g, Net carbs: 13 g, Cholesterol: 201 mg, Sodium: 1216 mg, Fiber: 8.4 g, Sugar: 7.5 g No Artificial Preservatives, No GMO This data is provided by Nutritionix and is an estimate only.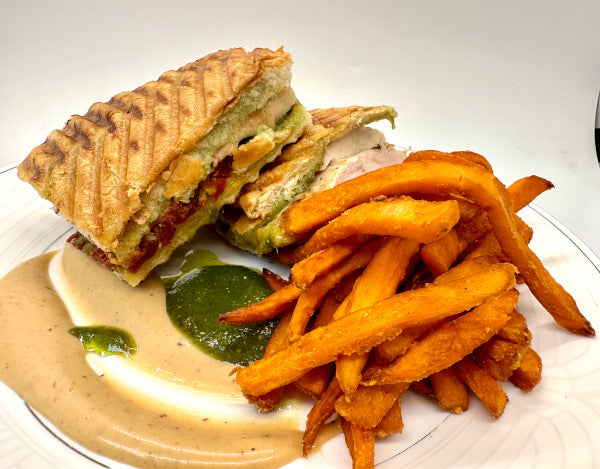 The Chicken Pesto Panini was so tasty, and the Sweet Potato Fries were a hit. 10/10, will order again!
In love with this combo! Chicken Pesto Panini was delicious and satisfying. Sweet Potato Fries made it even better!
Tasty and filling! The Chicken Pesto Panini was top-notch, and the Sweet Potato Fries were the best side option.