Chicken Piccata with Spaghetti Pesto
Regular price
Sale price
$14.95
Unit price
per
Sale
Sold out
This dish features tender, juicy chicken breast pieces that have been cooked to perfection and served in a deliciously tangy lemon capers sauce. The chicken is accompanied by a bed of spaghetti tossed in a vibrant and fragrant pesto sauce, and paired with tender, sweet baby carrots. Each bite is a symphony of flavors, from the zesty lemon to the tangy capers and the fresh herbs in the pesto. The spaghetti is al dente, providing a satisfying texture that perfectly complements the tender chicken and juicy carrots. Whether you're looking for a quick and easy dinner option or a delicious meal to impress your guests, this chicken piccata with spaghetti pesto and baby carrots is a must-try.
Balanced
Ingredients: Organic chicken breast, wheat spaghetti, basil-pesto, baby carrots, butter. Lemon juice, lemon, parsley, capers
Nutrition Facts: Calories: 642, Protein: 63 g, Carbohydrates: 36 g, Fat: 28 g, Cholesterol: 162 mg, Sodium: 548 mg, Fiber: 7.6 g, Sugar: 3.7 g This data is provided by Nutritionix and is an estimate only.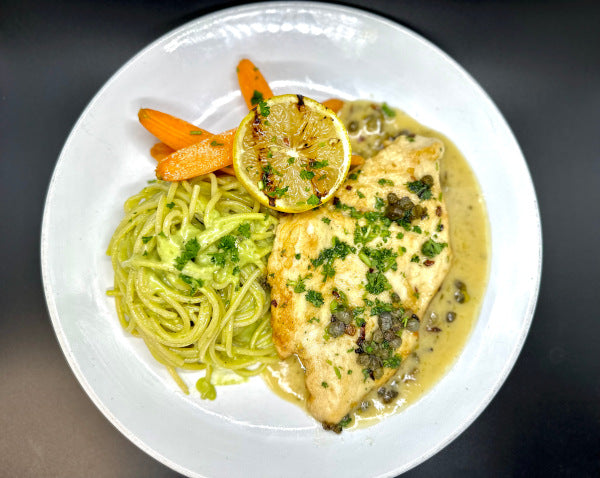 It's good but the spaghetti would be much nicer if it were made of zucchini and Not so oily
If you're looking for a dish that will tantalize your taste buds, this is it! The chicken is cooked to perfection and the spaghetti pesto is so creamy and delicious. The lemon sauce adds the perfect zing and really brings all the flavors together. This is a must-try for anyone who loves Italian cuisine
I was thoroughly impressed with the Chicken Piccata with Spaghetti Pesto dish! The flavors were fantastic and the combination of ingredients was spot on. The chicken was cooked to perfection and the spaghetti pesto added a great nutty flavor that made the dish truly stand out. 5 stars, hands down!
5 Stars
I recently tried the Chicken Piccata with Spaghetti Pesto dish and it was simply amazing. The chicken was juicy and perfectly cooked, and the spaghetti pesto was a great addition to the dish, adding a lovely texture and flavor. I would highly recommend this dish to anyone looking for a delicious and satisfying meal. 5 stars!